By Joshua R Embry
SharePoint got you down?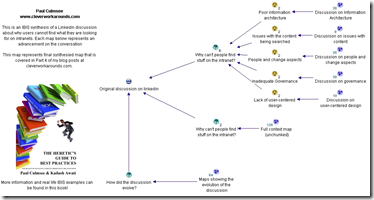 Many companies that utilize SharePoint on an enterprise level can begin to experience errors and loading delays as the resource begins to be used more and more. Downtime costs you money, delays increase the time it takes to resolve your customer's issues. So what's the fix?
The primary method for resolving the SharePoint lag issue is allocation.
Ask your IT team the following questions:
Where is our SharePoint service hosted? Single or multiple servers?
How is our SharePoint service distributed? (Who accesses what portions?)
Can we off shift any of this content into an HTML intranet solution?
These questions will get your IT team's wheels turning and they may provide the solution you need.
The truth is, most companies host their SharePoint on one server, and point to it with a single link. This means, every user of your company is accessing the same file and the same server. Multiply this by your employee base and you've got a disaster in the brew. It's great that your company uses this resource to the point of creating lag, but now that it's effecting the products performance, it's time to act.
Rule #1: Separate Departments by Server
Simply move SharePoint portions to other servers. Have your sales team access one, and your admin access the other, etc. This is the easiest solution IF you have more than one server.
Rule #2: Stop hosting ALL of your content and files strictly within SharePoint
Most images or files can be hosted in a shared folder in your network, simply add a LINK to this file, instead of copying and moving the file onto SharePoint. Your ultimate goal, when applicable, should be to have your SharePoint be a link bank- avoid storing duplicate information, you may in fact be costing your company millions of dollars each year with double or triplicate information.
HTML can be used to store pictures or other content on your server, and will take some of the burden off of your SharePoint site. Any time you can link back to content hosted elsewhere, you save the strain on your system.
Rule #3: Assign someone to take out the trash
Just like at home, someone has to package and deliver the trash from inside your home... to the curb. Kick old data that is no longer needed to the curb. Are you hosting a short term project on SharePoint? Set expiration dates for content. Allow you Project Management team to "borrow" the space until the task is complete. Save and store your overall data somewhere else and delete the SharePoint content. Tip: SharePoint lets you export data in excel form- use this to save any needed data.
Have someone check the content of your SharePoint site weekly or monthly, any less often would be ineffective and any more would be costly.
By leveraging your available servers to spread out the work, limiting hosting files by direct-linking to content house elsewhere, and by deleting old information, you're SharePoint will be back in your good graces within a week.
Joshua Embry is the head content developer and programmer for www.embryinc.com and currently works in the Data and Analytics Department within Sprint Nextel.
Discover more ways you can save you business time and money with free resources at http://www.embryinc.com
You have read this article Computers and Technology / Programming with the title Resolving SharePoint Lag Within Your Enterprise. You can bookmark this page URL http://rollycoasty.blogspot.com/2012/12/resolving-sharepoint-lag-within-your.html. Thanks!